Tällä hetkellä mä olen äärimmäisen riippuvainen väreistä ja huomaankin katseeni kiinnittyvän automaattisesti syksyn mallistoista niihin, jotka puhuttelevat mua väreillään -sekä shoppailuaistini välttelevän tummanpuhuvia sävyjä. Tämä on sinällään sangen outoahkoa etenkin omalla kohdallani
sillä esimerkiksi omat läheiseni jaksavat vieläkin suureen ääneen
ihmetellä mikäli päälleni on valikoitunut jotain tummanpuhuvasta poikkeavaa
(tässä kohtaa mainittakoon, että pukeutumishistoriassani tummat sävyt ovat aina olleet enemmän sääntö kuin poikkeus -äitini onkin vitsaillut, että kompensoin sillä pinkintäyteistä lapsuuttani- mutta käännekohta tähän taisi tulla abouttirallaa reipas vuosi sitten, josta lähtien olen vähintäänkin henkisesti pyrkinyt värilliseen olemukseen ja kiitettävän usein onnistunutkin siihen jopa fyysiselläkin tasolla)
.
Enivei, uskoisin etten ole ainoa, jolle pimeneviin iltoihin kuuluvat tummanpuhuvat sävyt tuntuvat pastellikesän
(, jota itseasiassa on jäljellä syksyn muodissakin mutta se vaatiikin jo ihan oman lukunsa)
jäljiltä olevan
vielä hivenen liikaa ja tästä syystä ajattelinkin lievittää yhteistä tuskaamme syksyn väreillä leikittelevän
Elle Méxicon
syyskuisella editorialilla.
Kevin Sinclairin kuvaamassa ja Anya Kazakovan mallittamassa editorialissa,
stylisti
Patric Chauvez
on pitänyt huolta syksyn väripaletin näkyvydestä sekä leikitellyt hurmaavilla leikkauksilla.
Elle Mexicon
syyskuinen numero myös juhlistaa lehden 18-vuotissynttäreitä eli täysi-ikäisyys onnittelut heille
Fashion Poetrylta
!
: --- )
~~~~~~~~~~~~~~~~~~~~~~~~~~~~~~~~~~~~~~~~~~~~~~~~~~~~
I'm really into colors right now and that's the reason why I find my eyes drawn to
colorful fall collections -and my shopping instinct to eschew not-so-colorful-tones. This it's in itself quite odd because for example my loved ones still wonder if I wear something that isn't so gloomy
(herein I must specify that my history of clothing has always been gloomy-intensive... until (since) over a year ago I've founded myself wearing -or at least trying to wear- color on me)
.
Anyhow, I believe that I'm not the only one who's avoiding gloomy colors after pastel-filled
summer
(thank God Autumn will be quite pastel-filled too according to the trends)
, and that's why I picked up this
Elle México's
September issue -it's fulled of Autumn's color palette. This vibrant editorial was lenced by
Kevin Sinclair
with model
Anya Kazakova
and styled by
Patric Chauvez
, who took care of showing Autumn's beautiful colors and also played cuts in a charming way. Also,
Elle México's
September issue is celebrating its 18th year in print so happy birthday from Fashion Poetry!
: --- )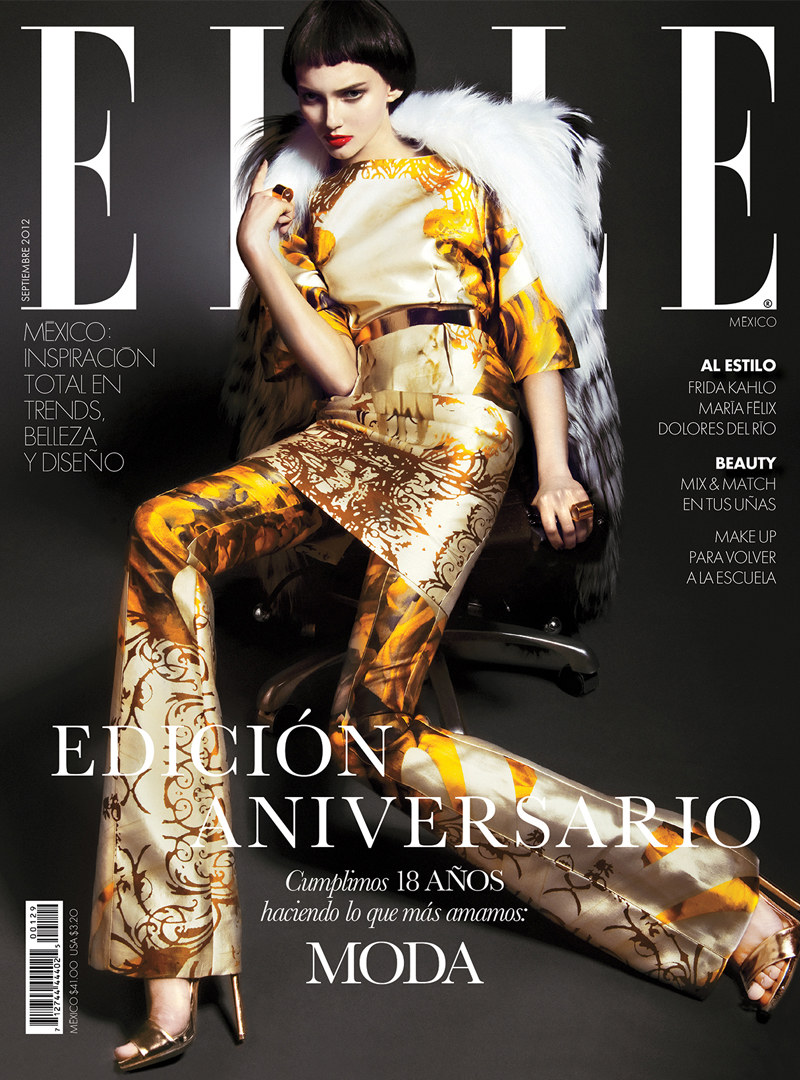 "(Nº18) Aniversario Número Dieciocho"
Hair: Dennis Fei (check out that elegant bob!)